---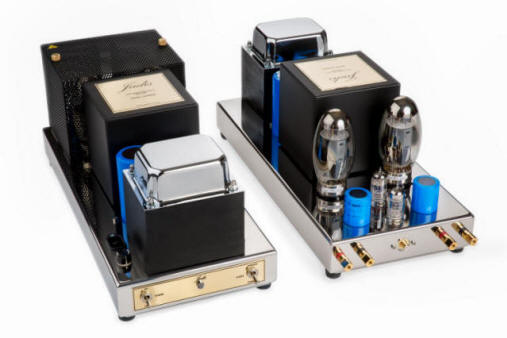 JA 30 MKII Listino ufficiale €. 11.000,00

Jadis JA30 produce fino a 45 W per puro canale di Classe A. Ora disponibile nella versione MkII, Jadis JA30MkII anche in versione optional con KT150. Ogni tubo è protetto da un fusibile e la regolazione del bias è automatica. Ciò significa che non è necessaria alcuna ulteriore manipolazione durante la sostituzione. Le provette devono semplicemente essere abbinate. Inoltre, questo dispositivo è progettato per fornire la massima potenza a 15 Hz, il che gli consente di avere una reattività molto elevata nella parte bassa dello spettro. Il passaggio del KT150 a un altro tipo di tubo di alimentazione come EL34, 6CA7, KT88, KT90, KT120 e 6550 richiede una leggera modifica interna del dispositivo Finale di potenza mono da 45 W in "Classe A", su 8 ohm, push/pull Impedenza d'ingresso 100K, impedenza di carico selezionabile 1 - 16 ohm.
OPTIONAL
VERSIONE KT 120 +200,00 euro
VERSIONE KT150 +400,00 euro
DESCRIPTION


This dual mono up to 45 watts in pure class A amplifier incorportes all the unique technical and sonic innovations which have propelled its predecessors into audio legend. The MkII version allows the use of the KT150 new pentode tube. The JA30, a pure class A 45 watt per side amplifier, is a very effective monoblock. Each tube is protected by a fuse and is self-biasing even when tubes are replaced, no adjustments are necessary (but the tubes have to be paired). Output tubes can be either 6550s or KT88s and the amps are designed to deliver full power at 15Hz, making for extraordinary bass. When when switching from KT150 to another type of power tube such as : EL34, 6CA7, KT88, KT90, KT120 & 6550 a small modification has to be made inside the unit.

SPECIFICATIONS
| | |
| --- | --- |
| Type | Pure class A monoblock power amplifier |
| Bias | Automatic |
| Power | up to 45W Class-A |
| Bandwidth | 20Hz to 46KHz |
| Sensibility | 500 mV |
| Tubes list | 4xKT88/KT90/*KT120/6550/*KT150, 2XECC82 / 2xECC83 |
| Dimensions | 46X21X21cm EACH |
| Weight | 22 Kg per block |
| Consumption | 125 W each mono amplifier |
*optional
REFERENCES
The Jadis JA-30, not only are they emotionally engaging, they can also pack some punch. They are pure emotion machines...