---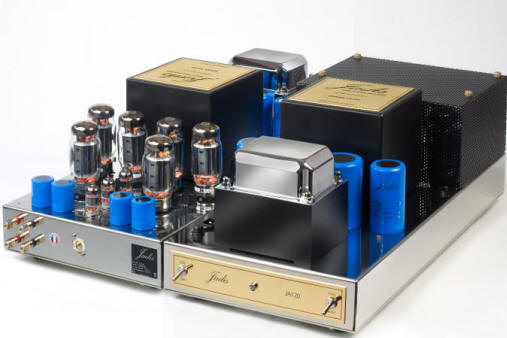 JA120 Listino ufficiale €. 22.980,00

Questo è un amplificatore che opera in carico "push-pull" e autobias Si può avere con diversi tipi di penthodes: KT90, KT88, 6550, EL34 o 6CA7 OPTIONAL KT120,. Il sfasamento è assicurato da un doppio triodo ECC82 e la funzione di driver da una ECC83. Può operare in opzione di modalità simmetrica. Il trasformatore di uscita, consente l'adattamento di impedenza da 1 a 16 ohm. Il circuito di catodo è protetto da singoli fusibili. Il trasformatore di potenza è sovradimensionato per una migliore dissipazione del calore e vibrazioni. Il filtraggio dell'alta tensione è fornita da condensatori di elevata capacità. Il riscaldamento del filamento è fatto da corrente con equilibrio e riduzione del rumore alternata. I terminali di uscita consentono bi-wiring. I connettori placcati oro assicurano una fedele trasmissione dei segnali. il montaggio utilizza tecnica "punto per punto" e il cablaggio e utilizza un stagno saldare argento / rame. Il telaio amagnetico di alta qualita' in acciaio inossidabile protegge il dispositivo da disturbi esterni e non influisce sui campi interni.
OPTIONAL
VERSIONE KT 120 +750,00 euro

These amplifiers work in "push-pull" configuration, triples load and autobias. They can work with various types of penthodes: KT120 (OPTINAL), KT90, KT88, 6550, 6CA7 or EL34. A balanced version is also available. The function phase shifter is assured by a triode double ECC82 and the function driver by an ECC83. The output transformers, guaranteed for life, allow an adaptation of impedance from 1 to 16 ohms. The power transformer is oversized for a better dissipation of heat and vibrations. The cathode circuit is protected by individual fuses. The filtering of the high voltages is ensured by high capacity capacitors. The tubes are heated by alternate current with balance and noise reduction. Two output terminals allow bi-wiring. Gold connections ensure a faithful broadcast of the signals. These devices are assembled using "point to point" wiring with silver / copper solder. The frame is made of non-magnetic stainless steel which protects the device from external disturbances. Released in 2013, the new JA120 builds on Jadis' tradition of combining fine hand craftsmanship with state-of-the-art innovation and design. The JA120 benefits from several important enhancements and raises the bar with no-compromise regarding audio performance.
SPECIFICATIONS
| | |
| --- | --- |
| Type | Pure class A monoblock power amplifier |
| Bias | Automatic |
| Power | 100 W |
| Bandwidth | 15Hz to 38kHz |
| Sensibility | 560 mV |
| Tubes list | 12 X KT120*, KT88, KT90, 6550, 6CA7, EL34 / 2 X ECC83/12AX7 4 X ECC82/12AU |
| Dimensions | 71 x 30 x 26 cm EACH |
| Weight | 45 Kg per block |
| Consumption | 250 W each mono amplifier |
* OPTIONAL
REFERENCES
French presentation
review
italian webzine

Warm and weighty, the JA120s stay just the right side of overly kind or romantic, never robbing a lip of its curl or a snarl of its spit and attitude.
"you'll find no better or more tractable tool than the JA120. Big, heavy and pricey it may be, but it has power to spare and musical authority to burn. The trick is to deliver that, but to master subtlety and delicacy too - and that's where the 120s really score."
- Roy Gregory, HiFi+, November 2012