---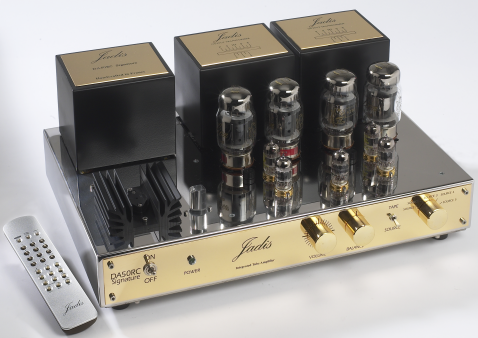 da50 Listino ufficiale €. 8.250,00


Il Jadis DA50 è un amplificatore integrato di grande qualità, sia nella scelta dei componenti che nella cura dell'assemblaggio. Nella linea dei più grandi, è sempre fatto a mano nei laboratori Jadis. Questo dispositivo è molto più avanzato dell'orchestra. La struttura in acciaio inossidabile non magnetica, la facciata dorata, i componenti selezionati a mano e il cablaggio in aria garantiscono un'eccezionale riproduzione del suono Jadis DA50 Signature Amplificatore integrato 2x30W pure class A push/pull- è una nuova generazione di amplificatori integrati da Jadis. E 'sicuramente un grande aggiornamento per Jadis Orchestra in ogni modo. Il telaio è in acciaio chirurgico, cercando esteticamente piacevole ed è resistente, garantendo la schermatura dell'amplificatore I fusibili di protezione sono posizionati sulla parte superiore del telaio.
OPTIONAL
Telecomando +400,00 euro
Versione con KT 120 + 200,00 euro

The protection fuses are positioned on the top of the chassis.Jadis DA50 Signature is a new generation of integrated amplifiers from Jadis. It is definitely a big upgrade to Jadis Orchestra in every way. Its chassis is surgical stainless steel, looking aesthetically pleasing and is hard-wearing, guaranteeing the permanence of the amplifier
REFERENCES
The sound of the Jadis DA50 Signature is lush, fleshed-out, organic and very musical. It is also rich in detail, liquidity, and has an overall more relaxed presentation that many an audiophile will equate with.
| | |
| --- | --- |
| Type | Integrated amplifier with optional remote control |
| Bias | Autobias |
| Power | 30W class A |
| Input type | 5 inputs, 2 speaker output (for bi-wiring) |
| Bandwidth | 20Hz to 35kHz @-3dB |
| Sensibility | 100mV |
| Number of blocks | 1 |
| Tubes list | 4 X power tubes 2 X ECC83/12AX7 3 X ECC82/12AU7 |
| Dimensions | 485 x 345 x 330 |
| Weight | 31 kg |
| Consumption | 275W |