---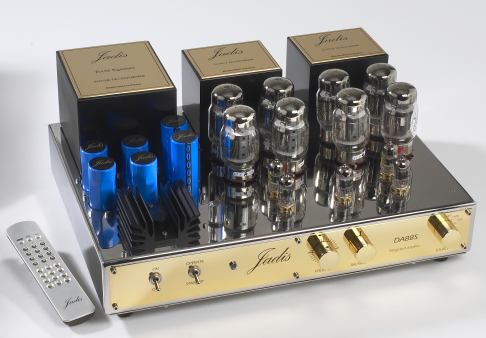 JADIS DA88 2022 (Versione EL34/6CA7/KT 88EH) Listino ufficiale €. 15.600,00
JADIS DA88 2022 (Versione KT 88Genalex /KT120) Listino ufficiale €. 15.990,00

Grande fratello del DA50, il DA88 utilizza doppi tubi di potenza. Accettando anche il KT88, è due volte più potente del DA50. Amplificatore che ottenuto un grande successo in tutto il mondo. Ultime notizie È ora disponibile un ingresso phono MM / MC opzionale (configurazione interna). Può anche essere installato su DA88 esistenti. Specifiche Potenza: 60+60W Pura classe A -Valvole: circuitazione doppio push-pull con 8 x EL34 /6CA7 /KT88EH o in optional /KT120*/Kt88 Genalex*+2 x ECC83/12AX7 3 x ECC82/12AU7-Ingressi:5 linea 1 digitale usb - Uscite: 2 uscite per altoparlanti (per biwiring)-Sensibilita :120mV-Risposta in frequenza :10Hz to 29 KHzDimensioni 500x400x220 mm -Consumo 360 W -Peso 40kg.
OPTIONAL
Telecomando +499,00 euro
Modulo phono optionale + 1.300,00 euro

The DA88 uses twice more power tubes. It can accept KT88, KT90, KT120 but also 6550 and is able to supply twice more power than the DA50. This lovely amplifier is appreciated by many audiophiles all around the world. An optional remote control can also be added. The Jadis has a beautiful tone color, a limpidity, a gracefulness, and tenderness. What makes the DA88S so distinctive is that it builds on these traditional strenghts to offer an amplifier that is so palpably powerful, vivid and authoritative that listening to it can become an utterly engrossing experience. So it was for me. Type Integrated stereo amplifier with optional remote control Bias Autobias Input, output 5 line input, 2 speaker output (for biwiring) Bandwhidth @3dB 10Hz to 29kHz Load impedance 1 to 16 Ω Input impedance >100KΩ Power output 60Wpure classA Sensitivity 120mV Tubes 8 x KT88/KT90/KT120/6550, 2 x ECC83, 3 x ECC82 Dimensions 50x40x22 cm Consumption 360W Weight 40 kg

REFERENCES
"The Absolute Sound" 2015, Product of the Yea award.

The Jadis DA-88S Mk II is not a good tube integrated amplifier. It is a superb one. It deploys KT-120 output tubes—a total of eight—to deliver a very robust 60 watts that can drive big loudspeakers like Wilson's XLF with aplomb. The DA-88S Mk II is self-biasing for ease of use and features a balance control, something that has gone out of fashion but can be quite useful. Its imposing hand-wound transformers clearly have a salubrious effect upon the purity of the sound. The Jadis allies liquidity with great dynamic power. Its sonic character is worlds removed from current solid-state designs. This is a unit engineered by and for tube lovers. The resolution, palpability, and, above all, sense of sweep conveyed by the Jadis are seldom less than glorious.

http://www.theabsolutesound.com/articles/2015-product-of-the-year-awards-integrated-amplifiers/


The Jadis DA88S sound is so harmonically rich, it brings out the musician and the dancer in all of us. There is no passive interaction with music - this amp gets past the normal hi-fi perspectives and simply plays music with passion.
HI-FI Choice

The Absolute Sound
http://www.theabsolutesound.com/articles/jadis-da88s-mkii-integrated-amplifier/?utm_campaign=Newsletter&utm_medium=email&utm_source=email-398

hi fi + issue 43, Review.
| | |
| --- | --- |
| Type | Integrated amplifier with optional remote control |
| Bias | Autobias |
| Power | 60W class A |
| Input type | 5 inputs, 2 speaker output (for bi-wiring) |
| Bandwidth | 10 Hz to 29 KHz |
| Sensibility | 120mV |
| Number of blocks | 1 |
| Tubes list | 8 x power tubes 2 x ECC83/12AX7 3 x ECC82/12AU7 |
| Dimensions | 50 x 40 x 22 cm |
| Weight | 40 kg |
| Consumption | 360W |